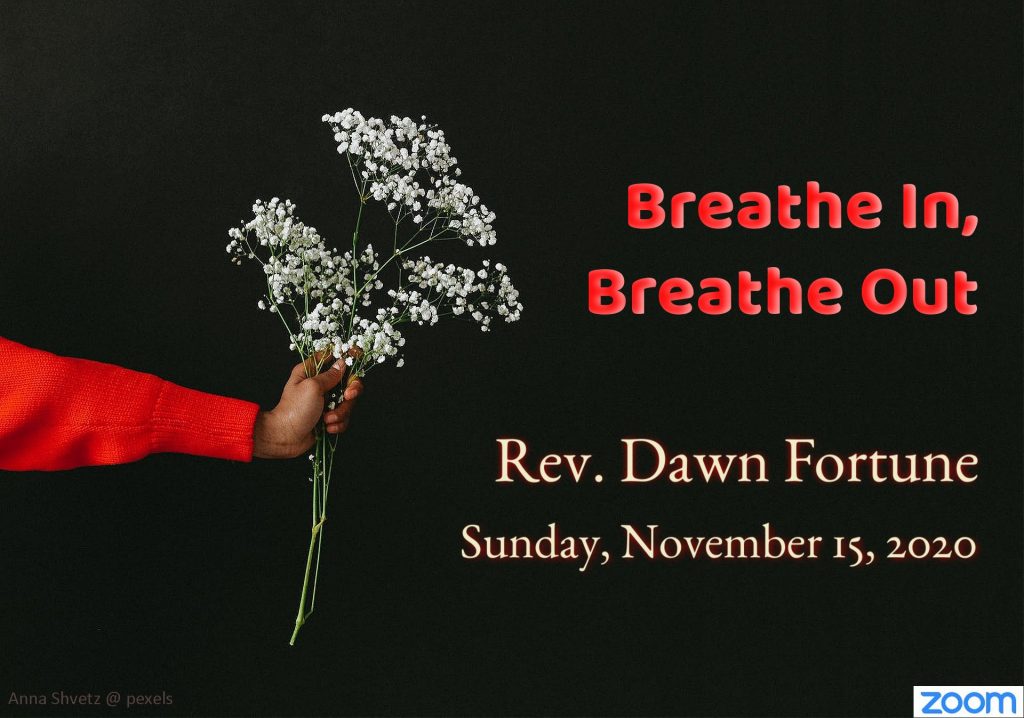 Sunday, November 15, 2020
Breathe In, Breathe Out
Rev. Dawn Fortune
The words "Breathe In, Breathe Out," are among life's most simple and basic instructions, but it is remarkable how often we need to be reminded to do it. Breathe in. Breathe out. Breathe in. Breathe out. Yes, the news of the world is troubling. Unlike the healing that happens after physical trauma, like a broken leg, or a bad cold, spiritual healing can begin before the trauma has ended. Viktor Frankl survived his time in Auschwitz in part by paying attention to his own spirit and serving others. Nelson Mandela emerged from his cell a whole man, not a broken soul. What is it that we can do to begin our own spiritual healing during these days? What does spiritual healing look like for us? Join us as we consider the ways to engage our spirits in the necessary work of healing.
---
To Join ZOOM Meeting ON COMPUTER:
Go to Zoom link
(Meeting ID: 224 677 6604)
To Join ZOOM Meeting BY PHONE (you do NOT need to have a Zoom account or app):
Dial:
1-929-436-2866 and wait for the prompt. Then dial 224-677-6604#
When prompted, enter password 306591