Racial Justice Task Force
In May of 2015, some UUCSJS members saw a need to create a Racial Justice Task Force. Our former Interim Minister Rev. Cynthia Cain was the initiating force, as racial injustice has been a great concern of hers for many years.
BLACK LIVES MATTER SIGN
An idea was approved to create a BLACK LIVES MATTER sign to be placed on Pomona Road. In August 2015, following a short afternoon ceremony, the sign was placed next to our congregation's sign.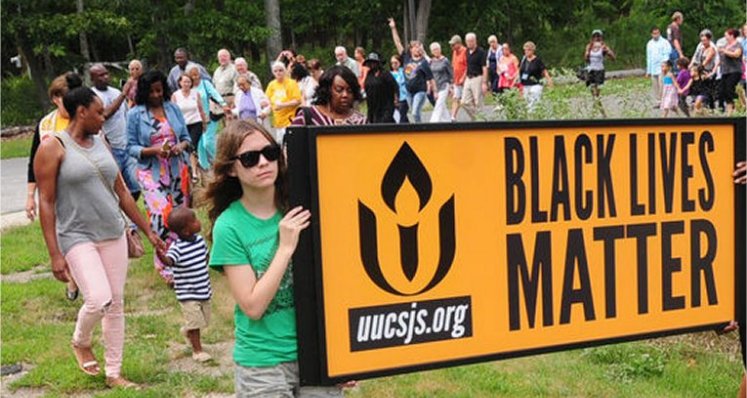 We were joined by some Black members of the community, especially from the AME Church in Pleasantville, where Rev. Cynthia had taken flowers to express our condolence and solidarity following the Charleston Church massacre. We received favorable local publicity.
In September, our BLACK LIVES MATTER sign was defaced with white paint saying "ALL" on top of the "BLACK". This event made local and national news. After a few weeks we repainted it. It was torn down once, and defaced again.


After many defacements, we have redesigned both the sign and its support structure. The new sign is installed March 5, 2017. We won't be silenced!



BLACK LIVES MATTER AC: BEYOND THE SLOGAN – STUDY SERIES
Sponsored by:
Asbury United Methodist Church
Rev. William M. Williams III, Pastor
Unitarian Universalist Congregation of the South Jersey Shore
Rev. Cynthia P. Cain, Interim Minister
REPENT, Inc.
Marte K. King, Founder
Ocean Heights Presbyterian Church
Rev. Dr. Wm. Blake Spencer, Pastor
Hamilton Memorial United Methodist Church
Rev. Clifford L. Still, Jr., Senior Pastor
Stockton Center for Community Engagement of Stockton University
Dr. Merydawilda Colon, Executive Director
Venice Park United Methodist Church
Rev. Clifford L. Still, Jr., Senior Pastor
Allen AME Church
Rev. Regena Thomas, Pastor
Black Methodists for Church Renewal —Greater New Jersey Caucus