Children's Religious Education (RE)
Our Mission
Through our Children's Religious Education programming, we encourage our youth to ask questions and explore. We seek to instill in them confidence as they set out on their unique spiritual journeys. We hope to establish a lifelong dedication in our youth to the Unitarian Universalist community at large.
Our Vision
Our Children's Religious Education Program provides weekly, age-appropriate classes covering introductions to different religions, UU history, UU identity, environmental and global issues, and social justice issues. We welcome new members to our youth program in a way that encourages them to make connections and want to return. We offer opportunities for the youth in the program to make a positive impact on our local and global community, and initiate opportunities for them to connect with other UU youth in our district.
What We Do
Sunday Morning Learning Lab
Preschool through 8th Grade
Children and youth begin Sunday morning in the sanctuary with their families. After sharing a gathering hymn and a Story for All Ages, children and youth are invited to join our RE volunteers for RE Learning Lab. RE Learning Lab includes group discussion of the Story for All Ages and activities in which children and youth are invited to use their thinking and creativity skills as well as physical movement. The fifth Sunday of each month is Joyful Noise Sunday when we immerse ourselves in UU culture through music and movement.
Nursery and Toddler Care
Nursey and toddler care is available during worship and for after-service meetings. Parents/caregivers should accompany their children to the nursery before service begins and sign them into care. At the end of the worship service, the same parent/caregiver will need to return to sign children out of care.
Highschool Childcare Workers
Highschool aged youth are encouraged to attend worship services with their parents. They are also given the option for training for a paid position as a childcare worker in our Religious Education Program.
All children and youth are always welcome to remain in service with their families.
Faith Formation at Home
Visit our Virtual RE Learning Lab
Want to learn with us virtually? Or want to extend your Sunday morning learning? Click on our Virtual RE Learning Lab below. The lab changes completely each month and new links and activities are added weekly!
Soulful Home
It can be difficult to carve out time for faith at home. Especially now when parents are being asked to do so much. Soulful Home makes spiritual exploration a bit easier for busy families. Each month, families registered for our RE program receive a packet of activities centered around our monthly worship theme. The packets are broken down into eight distinct "family spaces" like "at the table," "around the neighborhood," "at play," and "at the bedside." Families can then explore our faith together with questions, stories, and activities.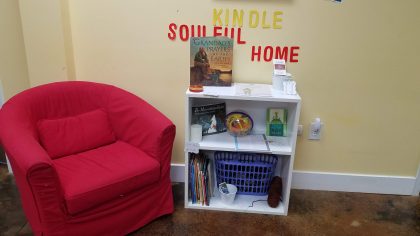 Want to know what these packets include? You can try a free sample HERE. Then send an email to our Director of Religious Education, religiouseducation@uucsjs.org, to be added to our distribution list.