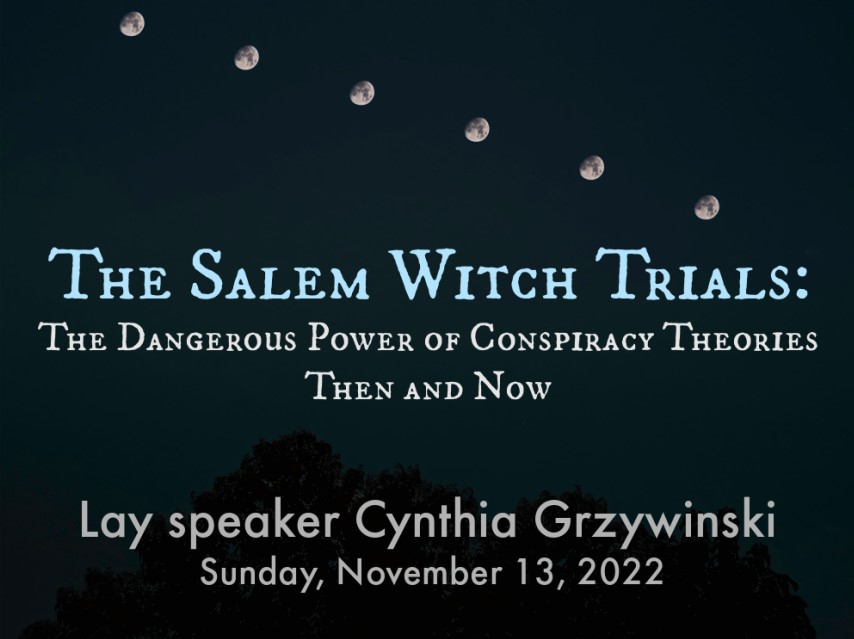 Sunday, November 13, 2022
The Salem Witch Trials: The Dangerous Power of Conspiracy Theories Then and Now
Cynthia Grzywinski
Between 1692 and 1693 the tiny village of Salem, MA bore witness to a tragic and shameful chapter in American history – The Salem Witch Trials. An event leading to the conviction and execution of 19 innocent people, mostly women, accused of witchcraft, a crime punishable by death. What role did conspiracy theories, easily spread falsehoods, play in the mass hysteria that led to the travesty at Salem in 1692? Can these theories be blamed for fanning the flames of countless other acts of mass societal injustice, such as the McCarthy hearings from the mid-20th century (The "Red" Scare) or the January 6, 2021, Insurrection (The Big Lie)? It's been over 300 years since the witch trials. Have we learned anything?
---
Tune in remotely by visiting our Facebook page for Livestream of this service.