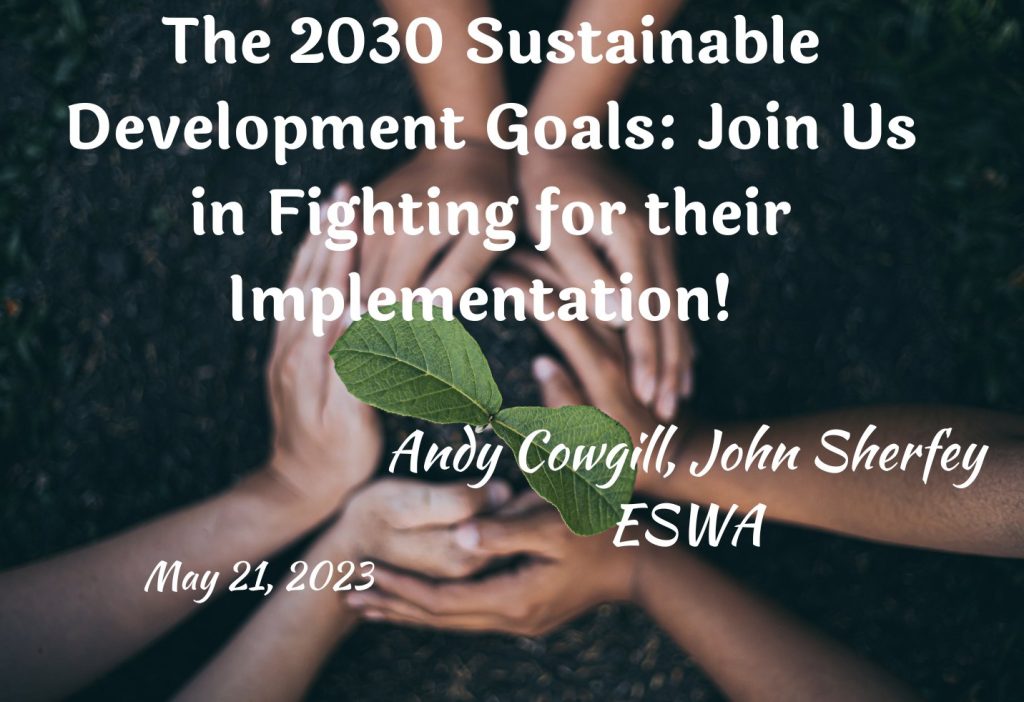 Sunday, May 21, 2023
The 2030 Sustainable Development Goals
Andy Cowgill and John Sherfey
In 2015, all nations agreed on a goal statement for sustainable development. By 2030, the goals the world would have achieved include ending poverty and hunger, gender equality, affordable and clean energy, climate action, and more. Unfortunately, our federal government, across multiple administrations, has done little to publicize the goals, and even less to implement the recommended targets. To take a single example: our commitment was to END poverty in the U.S. by 2030, but the gap between rich and poor has reached an unprecedented level! Eastern Service Workers Association's organizing efforts — in which many UUCSJS members play an important part — are uniting people across south Jersey to build a groundswell of involvement and action demanding full implementation of the goals. Learn additional steps you can take to fight for our collective future. If we don't do it, who will?
Bio: Andy Cowgill grew up in Minnesota. After gaining a variety of experiences in community service, political organizing and activism in Ecuador, San Jose (CA), Boston and elsewhere, he became a full-time volunteer organizer in 1999. For the last 13 years, Andy has been the Operations Manager of Eastern Service Workers Association (ESWA) in Pleasantville.
John Sherfey grew up in Williamstown in a family with deep roots in the South Jersey agricultural industry. John graduated from Stockton University in 2020 with a Bachelor of Science degree in Chemistry. John began organizing full-time in 2021, after working as a chemist and running a small business. He now serves as ESWA's Administrative Assistant and Educational Coordinator.
---
Tune in remotely by visiting our Facebook page for Livestream of this service.