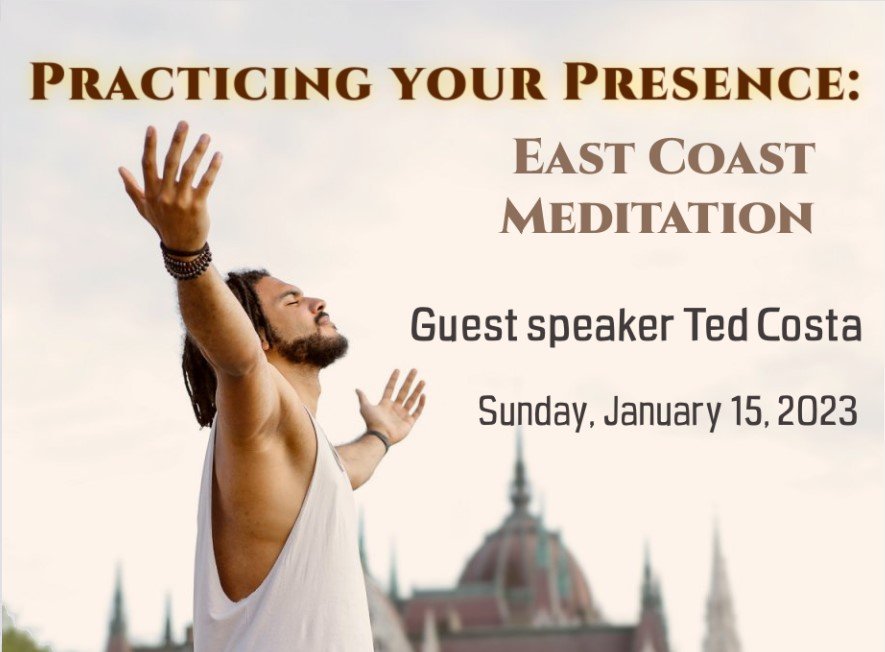 Sunday, January 15, 2023
Practicing your Presence: East Coast Meditation
Ted Costa
East Coast Meditation is all about the practice of being present in our own individual lives. The various forms and understanding of meditation are derived from Yoga, Buddhism, Kabbalah, and other spiritual traditions. The idea of utilizing an assortment of practices is to best find what is right for you, the individual practitioner, in working within the present moment. Some practices will resonate with one individual, such as a mindfulness exercise, while other persons may resonate with physical and/or emotional insight practices. You find what best serves you, and leave the rest for another day, if ever.
It is a great privilege, honor, and joy to be in the position of sharing these methods for being present for the purpose of living meaningful, integrated lives – all while being the hard working, peace loving individuals that we all have the power to be in this lifetime.
Bio: Ted Costa has been involved with mind-body-spirit integration work since 2017. He's a Nondual Healer by way of training in a 500 hour nondual Kabbalistic healing school, and a meditation teacher by way of training in a 200 hour yoga teacher training program. Ted is still involved with ongoing healer education and yogic studies, and now teaches dozens of individuals throughout the week in personal meditation classes and other outlets. Where he practices his own personal presence can be found within his family with his wife, dog, and baby boy on the way, his co-owned coffee company "Keep It Real Coffee Company," and also within his personal meditation circles. You can find him online at East Coast Meditation.com and on instagram with the same name.
---
Tune in remotely by visiting our Facebook page for Livestream of this service.