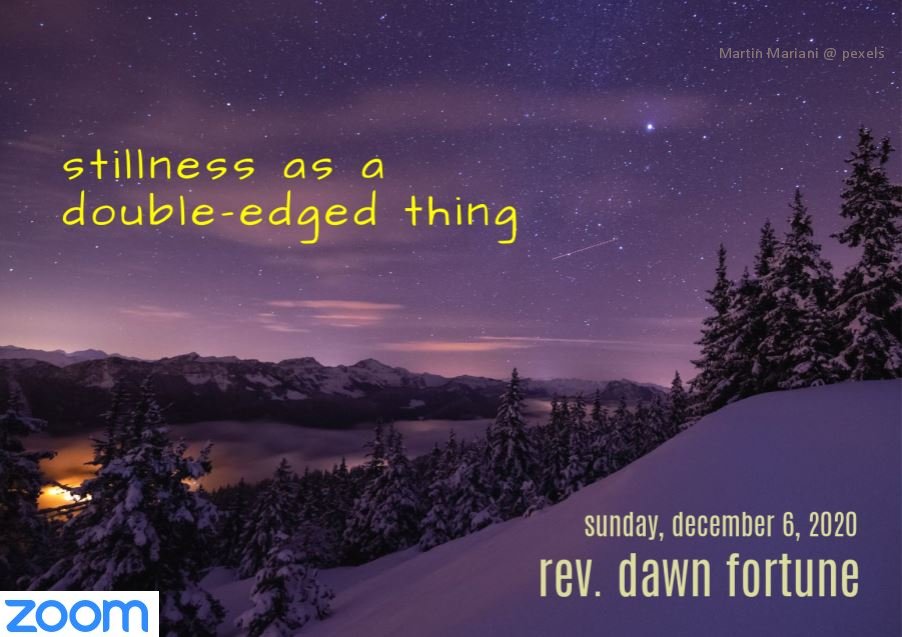 Sunday, December 6, 2020
Stillness as a double-edged thing
Rev. Dawn Fortune
The tumult of the election season has passed and our attention now turns to the stillness of the shortening days and darkening nights. Times of deep stillness and contemplation are opportunities for renewal, but also for isolation. In these days of pandemic and anxiety, extended periods of stillness can leave us feeling alone and frightened. Join us as we explore how stillness works (or does not) during these shortened days and lengthened nights.
---
To Join ZOOM Meeting ON COMPUTER:
Go to Zoom link
(Meeting ID: 224 677 6604)
To Join ZOOM Meeting BY PHONE (you do NOT need to have a Zoom account or app):
Dial:
1-929-436-2866 and wait for the prompt. Then dial 224-677-6604#
When prompted, enter password 306591