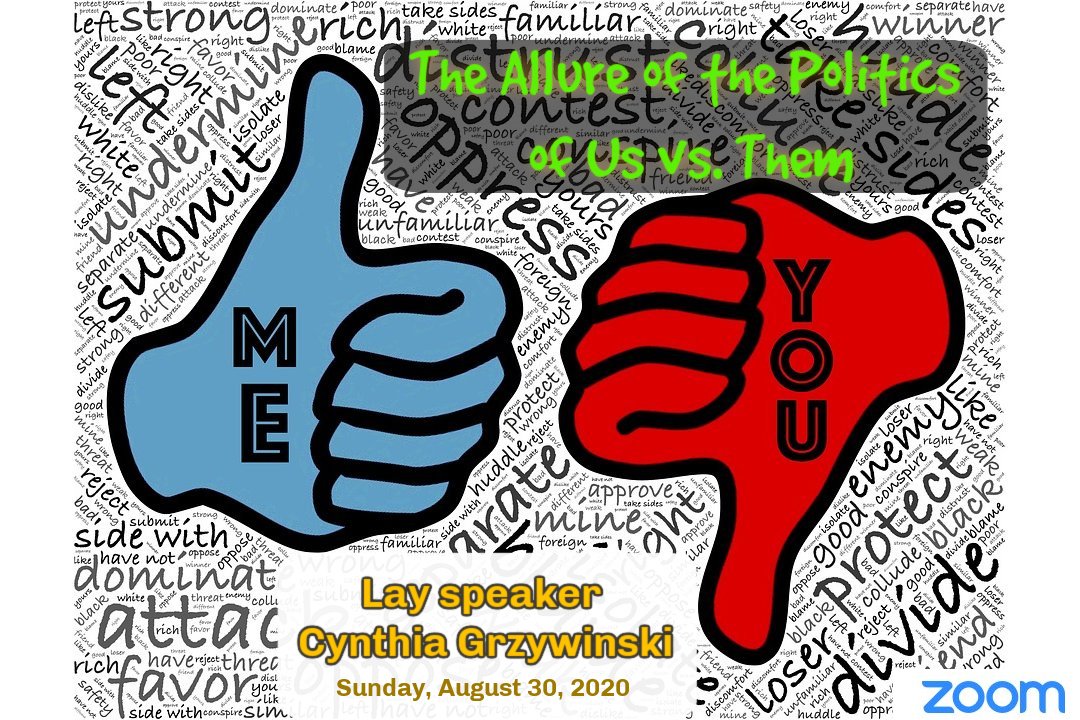 Sunday, August 30, 2020
The Allure of the Politics of Us vs. Them
Lay speaker Cynthia Grzywinski
Over the last several years, a disturbing seismic shift has taken place in countries throughout the world, including our own. Government systems of formerly democratic nations such as Hungary, the Philippines, and Turkey, are now lead by autocratic-minded "strongmen" and their supporters. Each system, characterized by the stripping away of basic democratic rights that we as Unitarian Universalists hold as inalienable such as free speech, freedom of the press, peaceful protest, and racial equality, all use similar tactics to gain control and influence a large portion of the population. Mainly to keep these systems and the men who lead them empowered. These tactics have been used to great effect by tyrants throughout history – and may be boiled down to the polarizing effects of one overriding concept: the politics of Us vs. Them. But how does this tactic work? What's the allure of the politics of Us vs. Them and why are so many willing to give up democratic freedoms in the process? And, is there anything we can do about it? Please join me in exploring these questions and more.
---
To Join ZOOM Meeting ON COMPUTER:
Go to Zoom link
(Meeting ID: 224 677 6604)
To Join ZOOM Meeting BY PHONE (you do NOT need to have a Zoom account or app):
Dial:
1-929-436-2866 and wait for the prompt. Then dial 224-677-6604#
When prompted, enter password 306591