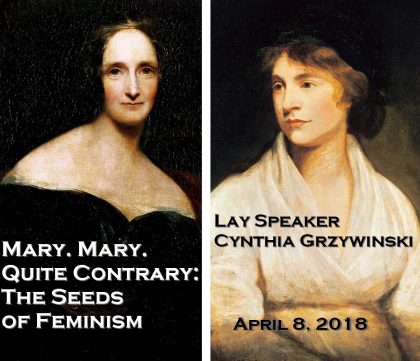 Mary. Mary. Quite Contrary: The Seeds of Feminism
Lay speaker Cynthia Grzywinski
Mary Wollstonecraft, considered the 1st British feminist, authored "A Vindication of the Rights of Woman" in 1792. She died 10 days after giving birth to her daughter, Mary Godwin Shelly, the author of Frankenstein, hailed as the 1st science fiction novel ever written. Although Mary Shelly never knew her mother, Wollstonecraft's writing, philosophy, and beliefs greatly influenced her daughter, who became a literary giant in her own right. Both were considered "outlaws", rebelling against the strict social mores of the time. How did these women's lives and work influence our current culture? And how did a Unitarian minister in Newington Green England influence their creative and feministic oeuvre?